THE COLONY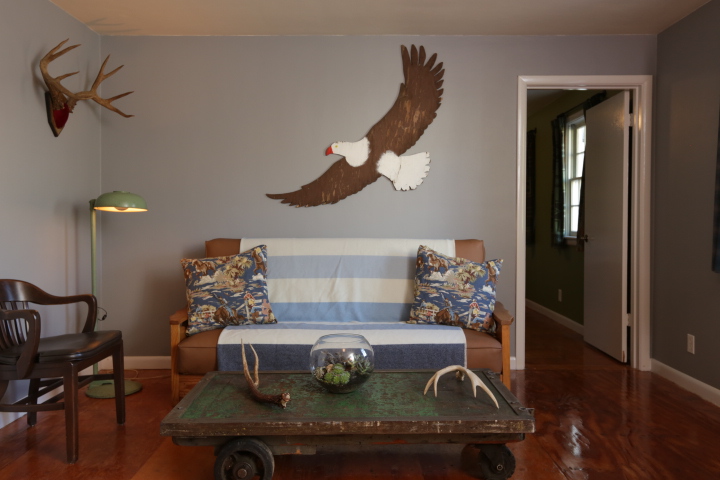 You may know about Dayna McErlean from her impressive lineup of NE restaurants (including Yakuza and DOC), or maybe from her new commissary kitchen, Dash, but it's her most recent business venture that most intrigued us. This busy Portlander (originally from New York) is about to make big waves in St. Johns with her newly-purchased 9,500 square foot property, appropriately named, The Colony. With a ballroom that could make any event look damn good, not one but two enormous kitchens, a pantry the size of most bedrooms, two beautifully furnished short-term rental apartments upstairs, a dance studio and empty rooms for collaborative office spaces, this place is not going unnoticed.
Within minutes of walking into the property, you wonder how this sat on the market for any time at all before McErlean purchased it on October 19, 2012, but then again, not everyone has the imagination and eye she has proved to the community in the last 16 years of living and developing in Portland. As she gave the grand tour, feelings of admiration and envy over every piece of furniture and decoration took over. Dayna has been working closely with Grant Michael Industrial Antiques to furnish The Colony, and let's just say, it's working.E+E: Did you have ideas before purchasing the building or did they come about naturally afterwards?Dayna McErlean: The building kind of told me what to do. A contractor friend of mine originally wanted the building but couldn't do it, so he showed it to me. I have been doing short-term rentals in my cottage (behind Yakuza) and realized there is an incredibly high demand for it.  At this point, there is no competition in St. Johns; no hotels, no motels, and maybe 6 Airbnb's. When people travel they like to go somewhere where everything is taken care of. If people have kids, it's hard to stay in a hotel because you are constantly on top of each other. So when I looked at this building, it was a no-brainer. I thought, this needs to happen. It became obvious pretty quickly that event space would be a big component as well but I'm still figuring it all out.
E+E: There are so many different rooms in this space! Although you are still figuring it out, any ideas you definitely want embark on?DM: I don't typically write business plans. I come from a fine art background so the way I approach my projects is more like a work of art - like layers, taking things out, adding things in - I'm really visual with how I do things. I would love to do an office concept where there is shared creative work space for laptoppers who can't afford overhead but want to be around other people. They could just pay a membership and it would be available to them during certain hours. With the studio, I would love to open it up and allow classes of all sorts, but it all just depends on what people have in mind. I am open.
E+E: How did you come up with the name, The Colony?DM: It was sort of a joint effort. Friends from New York were visiting and I was showing them a different property I own just down the hill on Decatur. It's basically a warehouse for artists to work in. So I was saying to my friends, "I have this cool piece of property that I want to make some sort of a pioneer village like place, kind of a colony." It was my friend who first said "The Colony", but it wasn't until I got this building that it clicked. It already has the colonial aesthetic, and I'm going to do everything you can imagine, so it will really be a cultivating culture and constantly growing. I plan to do a bit of everything and the name just made sense.E+E: What is your main motivation behind your projects?DM: With The Colony, it was the fact I have lived in Portland for 16 years and since I first moved here, I have constantly heard things about St. Johns and the future of it. Everyone is waiting for something to happen here and I guess I just get to a point where I'm tired of waiting and want to tip the scale, because I think I can. I don't think it will take much, it usually takes one person and people will follow suit.
My main motivation in general, from a development standpoint is, I want to create quality living spaces that people want to be in. I think whether you are at a place for a short or long amount of time, being comfortable and feeling at home holds a lot of value and is healthy. I have always wanted to create really cool forward-thinking housing. I've lived in my apartment (above Yakuza) for 9 years, but it took me 10 years to build because I built it like a sculpture. I think the reason my businesses have been well-received is because they were a slow growth, it didn't happen overnight.
E+E: So let's get things straight: you had no culinary or restaurant background?DM: No. I did grow up in New York where my parents would take us out to eat 3-4 nights a week, though. It wasn't just to get a quick meal, it was for the experience. We would be at a restaurant for 4 hours at a time! They were also a family of builders, so I saw that side of things from an early age. I like to create environments for other people to do things. Restaurants made sense because back when I first got here, there were no good restaurants in the neighborhood, and absolutely no Japanese cuisine. With all three restaurants, the space has represented how the business should take form.I think the best thing I took from art school was creative problem-solving, and that's a huge part of a restaurant's success.
E+E: Have you had to do a ton of work on The Colony?DM: I didn't want a huge construction project, and really, it didn't need it. Instead I just thought,  how will this work? Once this place really gets rolling, it will be interesting just to see how to manage the flow with the kitchen going, events happening, people in offices. I want creative minds to be able to bring forth what they have to offer the space and the community, which I've realized is very interesting and very active. I'm all about figuring out what the needs are and making it happen.The Colony7527 N Richmond AveSt. Johns, OR 97203 
Photo Courtesy: Tim Acock and Kurt Hettle.