"I HEART OREGON" SUGAR COOKIES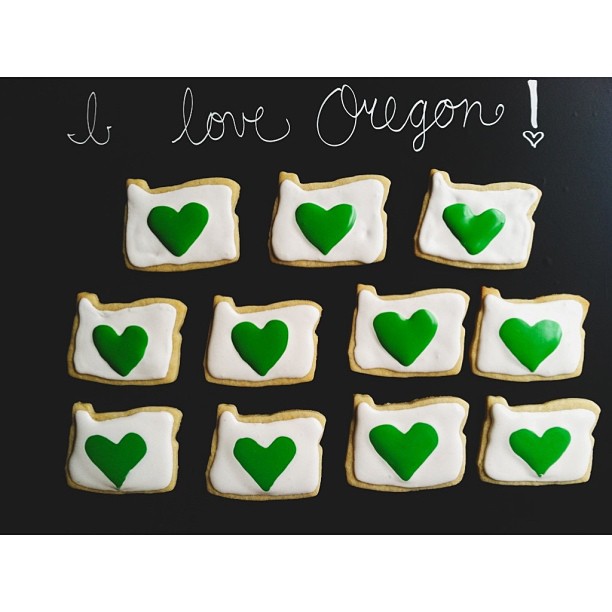 Anyone recognize the Oregon love? Chances are, if you're reading this blog, you probably love Oregon (namely Portland) also. And chances are, if you live in Portland, you've probably seen the love trying to be spread at the checkout stands in Powell's Bookstore. Or, you've seen them stuck on the bumpers or windows of cars all over the place (raises hand...). Or, you've seen it tattooed on someone's foot or calf. Either way, I feel like it symbolizes the way many of us probably feel about this lovely, green state of the Northwest. Love and homepride.
Upon Googling "i heart oregon sticker", I was surprised to find that Wikipedia had done a little spiel about it. A man by the name of Chris Bucci decided to launch the stickers in 2003, inspired by his own love for the state and by the "I ♥ NY" symbol. Since then, even the Democratic Party of Oregon decided to use the emblem for their buttons and T-shirts as a way of expressing their "shared appreciation for Oregon's beauty, entrepreneurial spirit and environmental leadership". That sums it up pretty well, don't you think?
So one day an idea came to me. As a baker, I tend to geek out over all sorts of odd baking gadgets, and curiosity came upon me to seek out a cookie cutter... in the shape of Oregon. And by golly, it exists. So there was only one thing to do--make the most delicious sugar cookies ever and frost them like the "I Heart Oregon" stickers because what else do you do with a cookie cutter shaped like the state of Oregon? As Chris Bucci was determined to "make the best sticker ever", I was determined to make the best Oregon sticker sugar cookie ever out of the best sticker ever.
Now, I really wanted to make these in time for Valentine's day, because not only are there hearts out the yin-yang on V-Day, but it's also signifies the day that Oregon joined the federal union--February 14, 1859 (there's a little trivia for ya!). Also, coincidental that Portland is also known as the "city of roses"? I think there's a whole lotta love goin' on up in here if you know what I mean.Anyway, I digress. In a nutshell, Amazon screwed up the order and I didn't end up receiving this cookie cutter until 2 days ago. Better late than never, right? Besides, who cares about exact holiday dates anyhow. It's about the cookies, man.
So I'm really super excited to share this fabulous sugar cookie recipe with you. I've made quite a few sugar cookies in my life and none have turned out quite as well as this particular magical sugar cookie dough recipe has. They taste like they were made in a professional bakery and decorated all fancy, but taste even better than you'd expect. Trust me on this. Even my boyfriend who claims he isn't a big fan of sugar cookies thought they were fantastic.
Before embarking on this wicked-cool baking project, I must forewarn you that you need several unique things to make it turn out just right (besides the dough ingredients that will be discussed shortly):
The cookie dough cutter.
Green gel food coloring (not the liquid kind). Example.
Round cake decorating frosting tips of various sizes (I like the 3 and 5).
Disposable decorating bags.
A fridge large enough to accommodate a baking sheet or two (to refrigerate the dough after you cut out the shapes).
Become familiar with the term "soft peaks" and knowing what they look like. (No, not Twin Peaks. Close, but not.)
Patience. Lots and lots of patience.
Don't let the patience part scare you though. Anyone can make these. You don't need to have experience with cake or cookie decorating to get pro results. You just need to have a few hours of your day set aside and a steady hand. It also helps if you have a super-helpful friend or boyfriend or girlfriend helping you make them, especially when the icing business comes around. It gets messy, I won't lie, but it's oh so much fun!Now let's get to it.
"I Heart Oregon" State Sticker Sugar Cookies
Makes 24 cookiesFor the dough:
2 sticks unsalted butter, softened
1 cup plus 2 tablespoons sugar
1 large egg, lightly beaten
1 teaspoon vanilla extract
1 vanilla bean pod, scraped (optional)
3 cups all purpose flour, plus more for rolling
½ teaspoon salt
For the icing:
2 egg whites
2 teaspoons fresh lemon juice
3 cups confectioners' sugar, sifted
½ teaspoon vanilla extract
warm water for thinning if too thick
green gel food coloring
Directions:
With an electric hand-held or stand-up mixer, blend together the butter and sugar until just incorporated in a large bowl. Do not overmix.
Add the egg, vanilla extract and vanilla bean, if using. Mix again on low speed until incorporated.
Add the flour and salt, mixing until the dough comes together.
Divide the dough in half and form into balls. Prepare two sheets of plastic wrap large enough to accommodate the dough and wrap up the tough tightly. Place in the refrigerator for 1 hour, or in the freezer for 20-30 minutes.
Line two baking sheets with parchment paper.
Lightly dust a large work surface with flour and knead the slightly chilled dough to flatten out into a disc. Roll the dough out evenly to a ¼" thickness with a rolling pin.
Cut out the shapes until you get at least 12 cookies out of the dough per round (yielding 24 total). You will need to rework your dough and roll it out several times to get the most out of what you have. Refrigerate the cutouts for 30 minutes, or freeze for 15-20 mins.
Preheat the oven to 350 degrees F.
Bake the cookies for 12 minutes or until the edges are very lightly brown. You want to make sure you don't overbake these, so even if it has been 12 minutes and the edges don't show discoloration, I'd advise taking them out anyway. They make look underdone, but I promise they'll taste better than being overbaked.
Let cool on the baking sheet for 5 minutes then transfer to a wire rack. Decorate the cookies once they've cooled for at least 30 minutes.
To prepare your icing: In a medium-sized bowl with an electric mixer, beat the egg whites and lemon juice until combined. Add the sifted confectioners' sugar, beating on low speed until combined, smooth, thick and fluffy (reference "soft peaks" photo for an idea). Add vanilla extract. Divide at least 1/3rd of your frosting into a small bowl and add in the green food coloring to your desire (it took quite a lot of it to reach the color we wanted). Bring to desired consistency with a small splash of warm water and use immediately. Start by filling a pastry bag fitted with the larger tip (No. 5) with the plain white icing. Pipe the lining on the outsides of the cookie, then fill in with the white. You can spread it out with your tip or a flat butter knife. Once the white base has dried a bit (at least 30 minutes or so, depending on the temperature of the room), prepare your pastry bag with the smaller tip (No. 3) and spoon in the green icing. Pipe on your green hearts and voila! You've got it sweets! (I'll be honest, my first few hearts turned out like crap but after getting some practice in, they turned out better than I expected!)
Please let me know if you have any questions! You can do it!xo. The Baking Bird