CRAZY WIND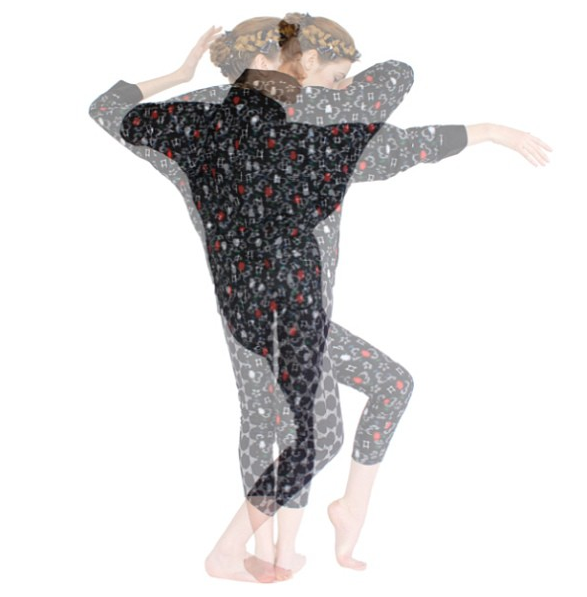 A few weeks ago we were going over who would be showing at Content at the Ace Hotel - happening this weekend - and we noticed Crazy Wind. After digging a little deeper, we learned the Japanese inspired line "sources textiles directly from the 100 year old family operated manufacturing house" in the Kurume region in Japan. We knew we had to know more. Instantly.
After interviewing Chiyo Takahashi, the woman behind Crazy Wind, we were completely blown away. Not only are the clothes interesting, compelling and different, but the entire process of making each piece is on a different level of meticulous. Take a moment to read the article and let you imagination kick in as Chiyo gives us a glimpse into her line, Crazy Wind.
EYES + EDGE: After moving from Japan to America as an exchange student you worked for a number of top companies that create sportswear. When did you have the lightbulb moment to create your own line?Crazy Wind: I'm not sure if there was a one time lightbulb moment, but I think it was more like a series of questions and thoughts that piled up and developed over the years. I learned a great deal about design and product making during my sportswear career and had opportunity to work with many talented people. But I was often frustrated with the way the industry moved from trends to trends and didn't allow enough time to go deeper into one topic, story or process. I also felt a general uneasiness towards mass manufacturing and mass consumption and wondered about it's effect on cultures and traditions. I often questioned about the products I was creating and how it was getting made. Once I begun having these thoughts everyday, it became very difficult to ignore.
Several years ago while I was still working full time in corporate design, I visited my late father's home town in Matsuyama to see my grandmother, and during that trip I stopped by Kasuri museum & craft center. Matsuyama is famous for it's regional kasuri, and I had remember visiting this place with my father many times in the past. Although I had been to this place before, I was never struck by it's beauty and appreciation for it as much as that day. It was like I finally understood it's beauty and appreciated it's process and it's history. I think from that day on, I knew I wanted to do something with this fabric.I believe it was the same year or the year after that my mother and I found my father's calligraphy drawing of "Fuukyo-" which became the inspiration for the Crazy Wind logo and the name. "Fuukyo-" basically means insanity or artistic madness, and my mother claimed that the drawing was a self portrait of my father. I was touched and encouraged by this drawing, almost took it as a sign to follow my heart even though the path may not be conventional. A couple of years after that, I quit my job to work on this project.
E+E: We understand that there is a very particular process in how you create your fabric. Will you give us a quick rundown on the love that goes into each piece?
CW: Kasuri is basically IKAT, and it's made by tie-dyeing yarn before it is woven, to create slightly blurred patterns on the finished fabric. There are about 30 different steps in creating kasuri – from designing of motifs to finishing.
This is the super quick rundown of what goes into creating this fabric...
They first prepare and organize the cotton yarns and bind them according to the final graphic patterns. After they bind them, they dye the yarns and dry them.  Once the tie dyed yarns are dried, they untie the binding threads, starch and dry them again. Then, they arrange and wind the warp and weft yarns in order to weave them in these antique machine looms. Once the fabric is woven, they wash and air dry the fabric again. As you can imagine, each process requires tremendous patience, skill and experience. It takes about 2 months to complete one roll of kasuri which is about 12 meters, enough to produce an adult size kimono.
E+E: That's truly incredible. How often do you go back to Japan? What is a favorite memory of going back?
CW: I try to go back to Japan at least once a year. Although I don't think I would ever consider going back to Japan to live, I do miss Japan and I appreciate the culture I grew up in.  I miss all the everyday normal stuff like food, how the neighborhood looked, how people act, even just the sound of the language. It's like I'm rediscovering and revisiting my past all over again but with a different perspective. Lately my favorite thing to do when I go back is to ask questions to my family about their past, since I realize that I don't really know much about how they lived and what it was like when they were young. It's fascinating knowing about their past. I recently found out that my great grandmother had a hand loom in the house that she used to weave kasuri to make all of her kid's clothes!
E+E: That must have made you feel like you are on the right path! We were very excited to hear you will be participating in Content at The Ace. What is your inspiration for the event?CW: I'm trying to build a room that's sort of like a spiritual room or a shrine that's made up by these fabrics I use in my line. Since kasuri has a long history and tradition, I naturally draw my inspiration from the old world Japan, but more importantly I want to create a room that captures the essence of Crazy Wind and do so in a visual and abstract way.
Inspired by Crazy Wind? We certainly are. Be sure to stop by their room at Content at The Ace Hotel this Saturday from 5-10pm. You can purchases pieces from Crazy Wind at Frances May and Table of Content in Portland.
Follow Crazy Wind on Instagram.Photos courtesy: Anja Verdugo