COFFEE AND COFFINS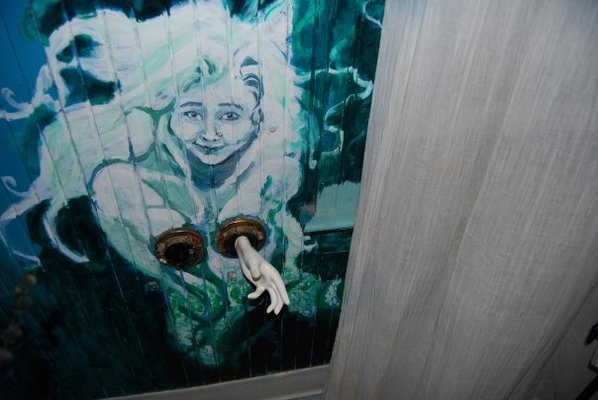 If you've ever been to Rimsky-Korsakoffee House, you remember the bathroom. Situated on the upper level of the business, you climb the stairs and open a creaky door to your left. There, you are greeted by an ocean scene, with legs coming out from the ceiling, and mermaids painted on the wall. Oh, and also a coffin resting on the floor. Eerily eclectic would certainly be the right word to describe Rimsky's. Surely, with its self-rotating tables and desserts like "Rasputin's Vice" working here would be no ordinary gig. We had the pleasure of getting the scoop from Mikey See, beloved server of many.  
E+E: How did you start working at Rimsky's?Mikey See: My landlord was friends with the owner and said I should go see her about a job. I started by washing dishes and then they quickly realized my innate skill with the public.E+E: How long have you been working at Rimsky's?MS: Lets see... Was it 2000 that I came in? OMG! 12 year?!?E+E: In your 12 years, have you had any strange happenings?MS: You know its haunted, right? Everyone who's been there as long as I have have at least one story. Let's see, it was about 9 years ago and a stormy winter's night. I was in charge of watching over the craft bazaar in one of the upstairs bedrooms. No one had come up for at least an hour so I had just been sitting there reading the Weekly trying to pass the time. Suddenly, I heard the clicking of heels on the wooden floor and I got a strong whiff of Gardenia perfume (I recognized the fragrance because my grandmother wore it when I was a kid). I didn't bother to put my paper down but asked them to let me know if they had questions. There was no response. Suddenly the chair moved next to me and I put down the paper and saw NO ONE. What I did see was the earring stand beside me swaying to and fro as if someone had examined the jewelry and suddenly let them go.... Heavens to Murgatroyd! All the hair on my back uh I mean neck, yeah neck, stood up! EEEEK! Apparently the original owner comes by regularly (even after death).
E+E: We must say, Rimsky's has decor unlike any other business in town. Who decorated the house?MS: Our owner, Goody Cable, has the primary say but we all have pretty much added our own touches over the years. Gillian has painted animals everywhere and we are all bringing over our useless knick knacks (its sort of been a repository for all the employees unwanted items for the last 3 decades). The many food fights have definitely brought added touches of color to the kitchen over the years.E+E: Rimsky-Korsakoffee House Do you have any qualms about using the upstairs bathroom (see picture)?MS: For starters, its upstairs and I drink so much water at work that it would be like using the stair master all night. Plus there's always a line. And why use that one when we have our own in the kitchen? I really only go up there when it needs to be stocked and cleaned but it is cool to look at.E+E: Do you have any side projects?MS: I think everyone has a side project or second job who works here. I DJ at two bars and I'm in the band Mattachine Social. That sounds typical Portland, doesn't it?E+E: What is the best (and worst) part of your job?MS: We have no manager (We have no manager).E+E: Favorite dessert that you serve?MS: Lordy Molasses! Its a toss up between the Pot de Creme (I'm a chocoholic) and the Ginger Cake which is bombtastic!
Sip on a coffee and check out the famous bathroom. You won't be disappointed. Rimsky-Korsakoffee House707 SE 12th Portland, OR 97214 Photo courtisy: Todd M, Shay E & Michael S.  of Yelp.