A-WOL SHOW: GRIDLOCK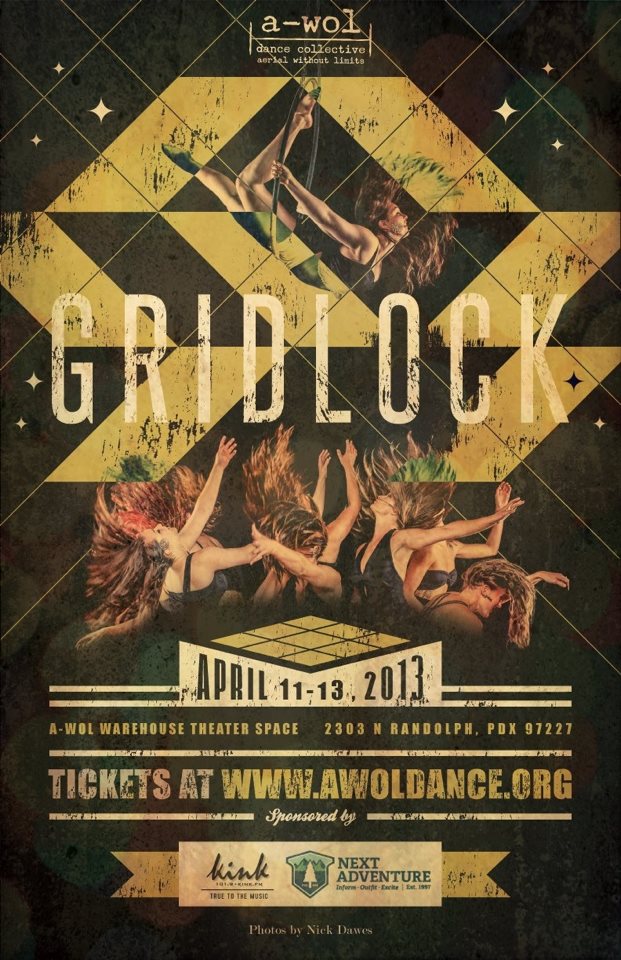 Everyone's superpower of choice is to be able to fly, but there are some talented dancers in Portland who are making that dream a reality. A-WOL Dance Collective was founded in 2003 by Jen Livengood, Brandy Guthery, Julie Hoel Barnes and Stacey Silva, and it certainly lives up to its name. All of the members involved work together, both on and off the stage, to create an ever-evolving and efficient community of artists and performers. Over the last ten years, the organization has grown from a small performance group to a professional company, with a regular season of performances, a space that houses home performances, rehearsals, classes, events and an education program that includes over 30 classes a week for all ages from beginning skill level to a pre-professional training company. (And let us tell you from personal experience, the classes are beyond fun!)
Currently, the performance company consists of 15 members, apprentices and guest artists. Artistic directors, Jen Livengood and Brandy Guthery (who have been dancing since childhood), oversee the productions. Aerial dance has been the perfect combination of their interests in taking dance out of the confines of the stage and into the air. We spoke with Jen about the company and their upcoming Gridlock performance.
E+E: Had you always wanted to start your own company or was it the right time, right place kind of situation?Jen Livengood: For me, personally, I have always been in a leadership role in the things I participate in. Directing a company was a natural step for me, but was more of something that fell into place at the right time.
E+E: Could you expand on the Gridlock shows and what they are a bit?E+E: Have you ever had any serious accidents or scares? Aerial seems scary sometimes!JL: Safety is our number one focus in all that we do. We all make great efforts to be safe not only in our own aerial practice, but in watching out for others, carefully rigging and maintaining all of our equipment. We've had a small share of accidents and injuries, but we use mats and other equipment to keep us as safe as possible. 
E+E: What has been the most exciting/surprising/joyous experience since founding A-WOL?JL: For me, the absolute best part of A-WOL has been watching the growth of the company and the chemistry that occurs between the company members. Because we work collectively, the creation that occurs within the group always exceeds my expectations.
E+E: What are the future plans for A-WOL?JL: This is A-WOL's 10th season, and as we plan ahead for our future, we have many growth plans that include organizational expansion, increased shows, facility improvements and national touring.
Photo credit: Nick Dawes
GRIDLOCKApril 11-13, 20132303 N. RandolphPortland, OR 97227