PALM ANGELS
Fashion Week's New Proverbial It-Girl
Words by Stephanie Malik
Photos by WWD
The mastermind behind Palm Angels is Italian-born designer Francesco Ragazzi. I say "mastermind" for more than one reason. First off, if there is one thing that Ragazzi knows it is how to generate hype, hype, and more hype. This AW2019 season marked the first Palm Angels collection to debut at NYFW, rather than his native Milan Fashion Week. The leap across the pond had already garnered significant attention in itself, but even more excitement was created by the raffle for last minute tickets to his show held on Instagram, that had some lucky guests booking transatlantic flights just to make it in time to see the spectacle.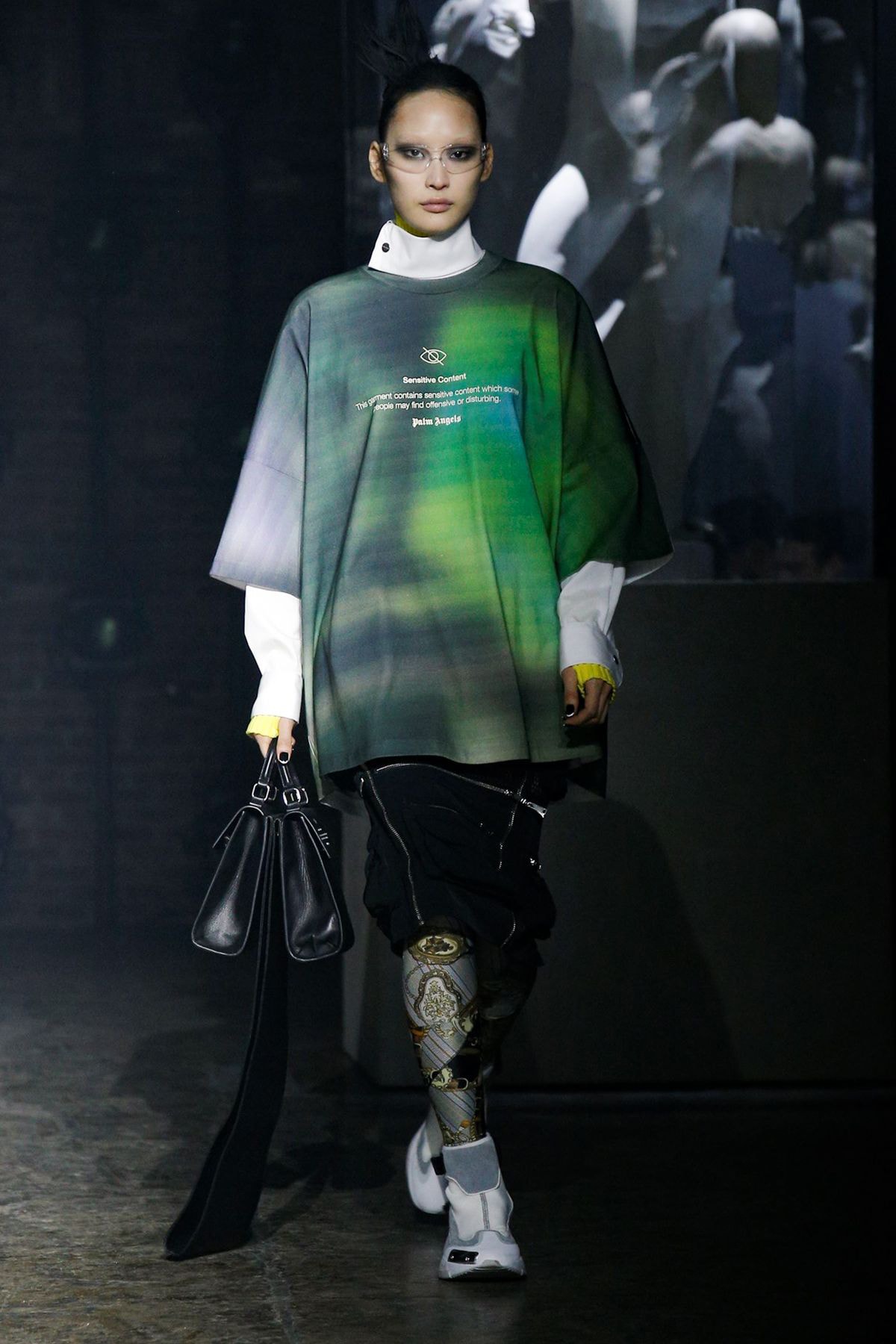 So, did Palm Angels live up to the hype? This is where the second instance of Ragazzi's mastermind status was confirmed.
This guy sure knows how to put on a show. The soundtrack to a decidedly impressive and intricate light display was Marilyn Manson's classic "The Dope Show." you could feel that special kind of energetic buzz only runway shows can create zipping through the crowd in anticipation of whatever spectacle they were about to behold, with each look as it came out serving as a kind of Tesla coil for an already electrified audience. You could say Ragazzi had the audience in the palm of his hand. (FYI: fashion is never too cool for dad jokes.)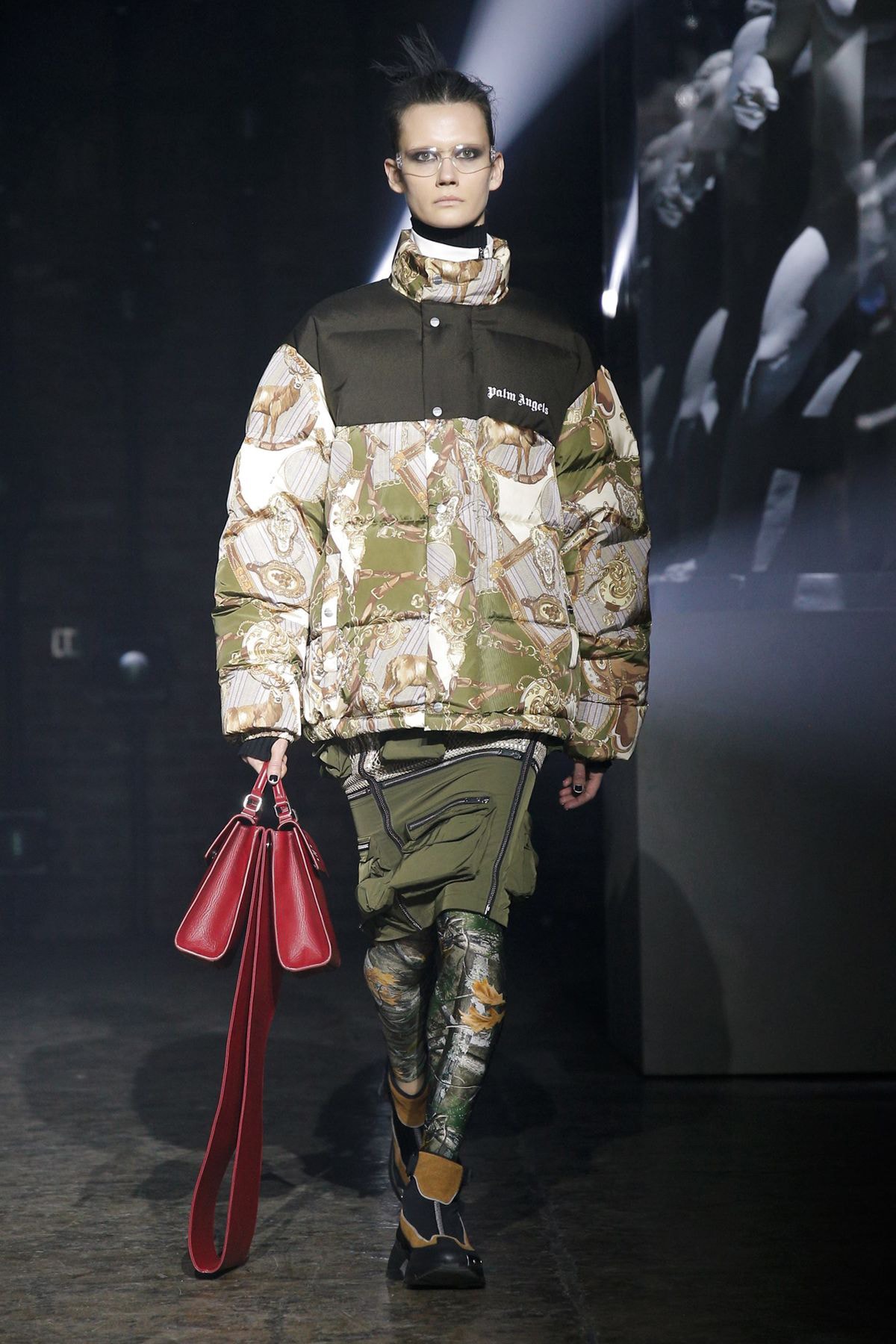 Oh right, you probably want to know something about what the models were actually wearing. Here we have the third, and final, example of Ragazzi's mastermind. Sure there were hip nods to 90's-style alien motifs alongside prints reminiscent of Gianni-era Versace on sportswear. But, if we're being honest, this is really nothing new (more underground European designers like our friend Roberto Piqueras from Spain have been doing this since Spring/Summer 2013 with his "Virgin Alien Bomber Jacket" for example).
Now what separates Palm Angels AW19 collection from the rest is the evolution beyond classic sportswear, into dynamic hybrids of streetwear and classic ready-to-wear. Standout pieces incorporate the more recent trends of hunting camouflage and layered pockets à la fishing vests. Here the pragmatic seamlessly meets prêt-à-porter (yes, that was dad joke #2 and we're proud of it). It takes a special kind of genius to make fishing apparel look chic AF, and we can't help picturing the memetic image of Ice Cube fishing (who well-known as an avid fisherman) when we see these vests.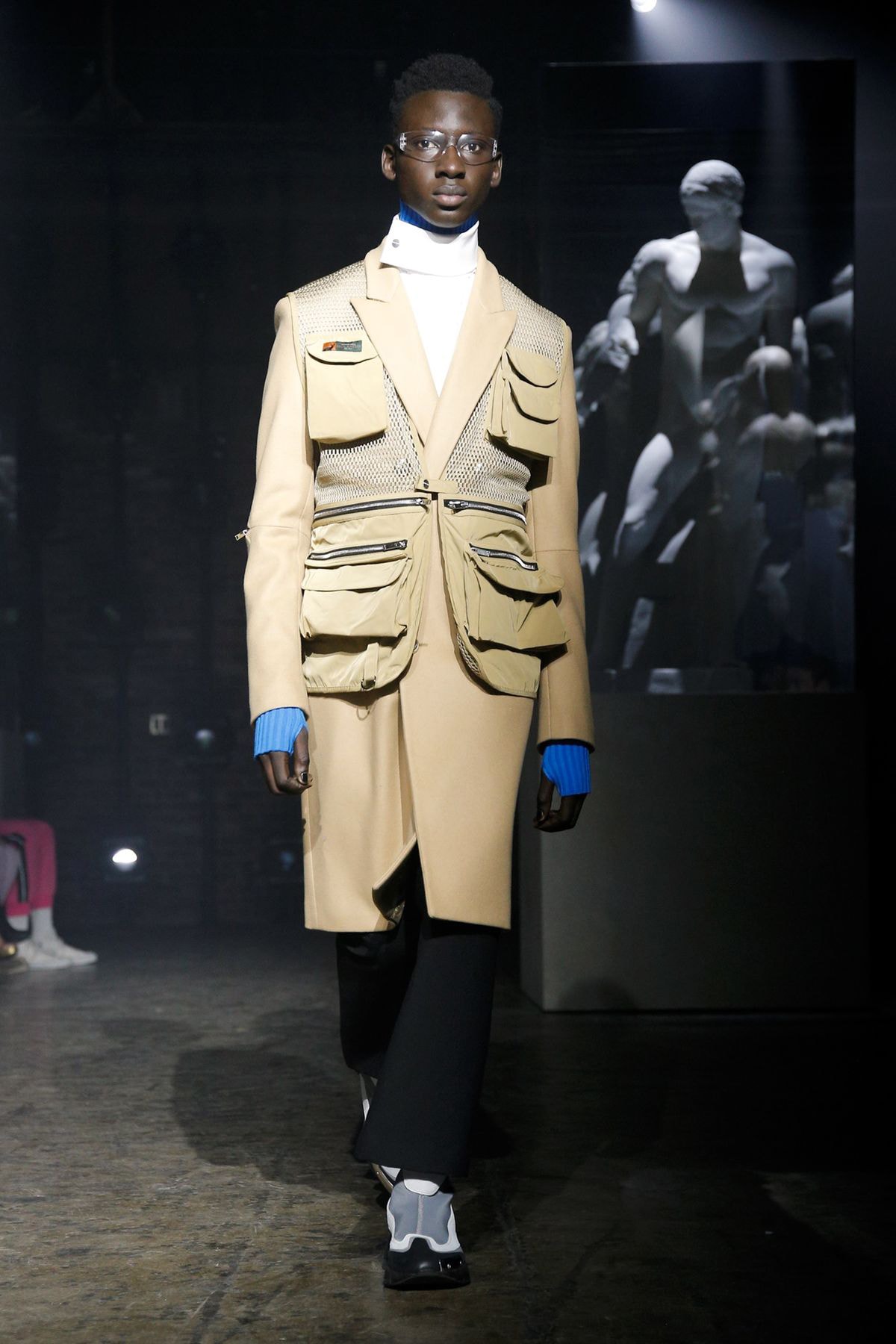 And just in case you forgot that Palm Angels is an Italian-brand, the incredibly elegant and well-executed accessorizing with Italian leather pieces was another strongpoint woven throughout this collection. The pair of camel leather "handbags" mounted side-by-side at the waistline were especially luxurious looking and an ironically playful expansion on the aforementioned themes of pragmatism within hunting sports gear. We can't wait to see how Palm Angels evolves in the future and hope to welcome the brand and accompanying spectacle back to NYFW soon.