JUMP ON IN: 'POOL PARTY'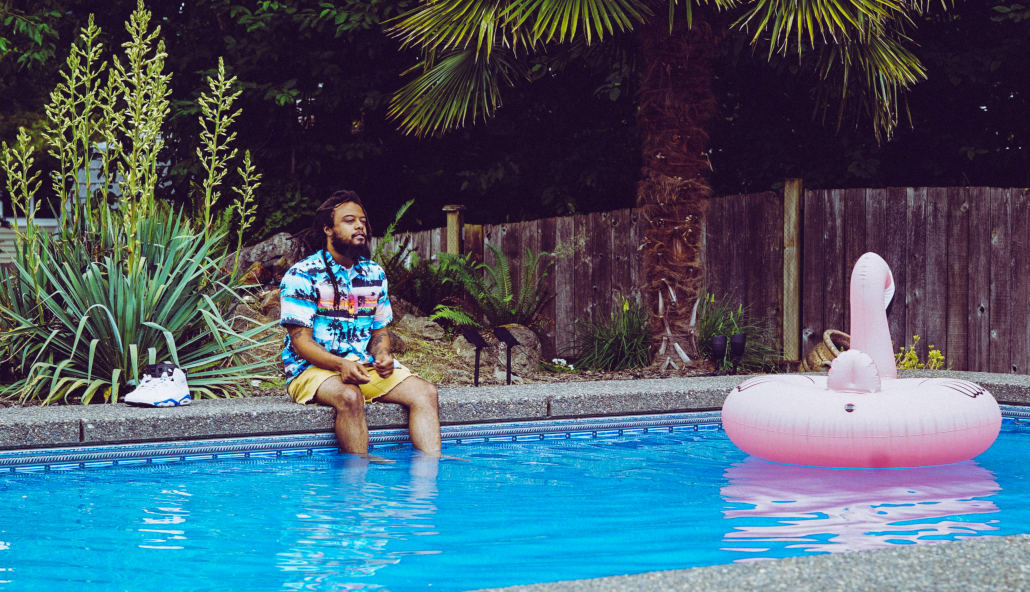 PDX transplant Myke Bogan has been having one hell of  a year. He's been off the grid for a while as far as putting out any new material but the lyricist has been productively preparing for his take off and proper introduction to the rap game. Bogan released his anticipated debut album "Pool Party"  this past August. It was his first solo release on EYRST, a label founded by Portland producer Neill Von Tally and former Portland Trailblazer, Martell Webster.This new album was Bogan's formal introduction to the industry as an artist that day one fans and new fans alike can vibe out to for any occasion. The 36 minute project had intricate levels that told listeners exactly who Bogan is- a laid back, yet engaging lyricist, who floats over jazzy productions with a story to tell. I was fortunate enough to get placed on the hard working rapper's schedule and we discussed his recent work. DJ: First things first, congratulations on  your debut album.MB: Man I appreciate you man. Thank you so muchDJ: How was the process for that? Was it a little nerve racking for you? Or did you feel right at home?MB: To be honest, it was definitely one of the hardest things I've ever done. It was a struggle dude. It was year and a half struggle. I knew going in, it [the album making process] would be different, you know signing with a label, and making sample free music. I knew that would definitely be a different thing, but I just had no idea how difficult it would be.DJ: How long have you been around music? And how did you know music is what you wanted to do?MB: The first thing I remember was my daycare rides with my mom. I probably was four, maybe five and we'd always listen to Sade and Anita Baker. And my mom would always sing and was so cool and I would know all the words. I remember my whole family would give me shit. They'd always ask me at functions and shit like " Sing Sade" this. "Sing that." so I was always a music lover. My dad was a huge East Coast cat. so growing up we were a Fugees house and Biggie house, and a Wu Tang Clan house. And of course being from L.A. we listen to West Coast music. My dad played drums, since he was in junior high. Kinda the same thing I did. So we would always listen to Boney James and all this Jazz stuff, but I'd be so pissed like "why do have to listen to this stuff?". I had no idea, as I grew, I would come to appreciate it so much. My uncles are all from Chicago and they all play instruments. My mom's youngest brother came to live with us for a while when I was little and the cool thing about it was he was so diverse so he put me on to like Nirvana and Guns N Roses ya know? Greenday. And I was the only kid listening to this in Junior high that was super with the shit but was also listening to Blink 182 on the way to school.DJ: You have a very distinct sound. Did that come natural for you or did it take time?MB: It definitely took a while to find. I got lucky because it happened to me fairly quickly. For some people it takes years and years to find. I definitely had to find it. I remember being super uncomfortable in the studio. I remember not liking how my voice sounded recorded. It takes a lot of getting used to and it takes a lot of confidence and just getting comfortable. You have to be so comfortable to the point like you can do anything like you're in the shower by yourself. You gotta be able to do that in any studio you step in. To this day, when I'm in the studio, I cut the all lights off. It takes time, it takes persistence and it's like when you find it, you'll know it.
DJ: Who did you look up to in the rap game as far as mentors or influences?MB: I was always a huge Jay-Z fan and I love Method Man. I love Meth and Hov because A) they were very witty. And i feel like that was my sense of humor. Very witty, very clever the way they made shit.  So B) is like trying to ride the beat effortlessly. I wanted it [rhyming] to always be effortless. Meth would come on and say something and I would be like "Damn nigga! You make it seem so easy! I know you in there trying!". I feel like, one of the hardest people when they did flow was Lauryn Hill. I love the way she would come on the track and ride the fuck out of the beat and then be like " And I'm gone". It was easy, like she would just freestyle. To this day, I'm still trying to progress and progress but I would say like Lauryn, Meth, Hov and definitely Andre 3000. DJ: By which project did you feel like you hit your stride as an artist?MB: I think me personally for me, The first time I was comfortable listening to my own music was "Pretty Hesh". That was first cohesive project. Like "Ooo I think I'm getting it now". I was willing to listen to it. People would be like "Hey man we're about to play 'Monkeys on the Beach' and I would be like "Ooo not while I'm here." And then "Pretty Hesh" came around and I was like "Yeah bang that shit." And then I had a dope little EP and I was in a weird space. I had these six or seven little songs and I wanted to release that and that was "Silk Jockstrap" and that was with "SGDB".  So now I'm to the point where now I can tell that I have a sound. DJ: What would you say is in store for Myke Bogan fans? Any Last words to your fans?MB: I think what's in store is… I should be coming to a city near you! If everything goes right, now matter where you are in the U.S. I should be to get to you. I'm looking to jump on the road here real soon if things fall through. So A) a tour and B) bigger collaborations. Last but not least man more music! Thank everyone that's supporting pool party and my movement!